Me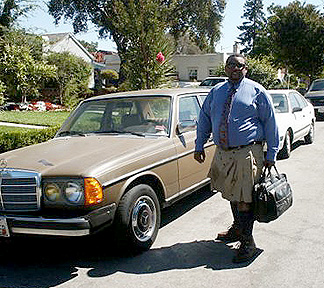 "At some point I realized that I can't live my life
down to the level of other people's ignorance."
Find me on MySpace and be my friend!
My Blog, "MindStation X - Sublevel C"
I don't know what people get so excited about. I'm a pretty ordinary guy. OK, I wear a Utilikilt most of the time, but what's so odd about that? Women wear jeans and slacks, guys wear kilts. No, it's not a dress!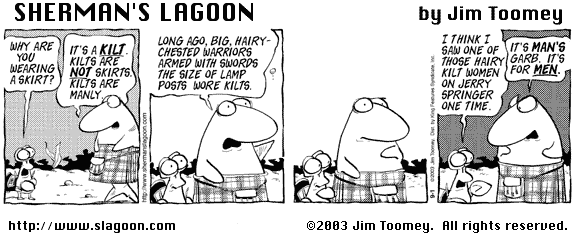 ---
Other Kilted Folk
http://www.accessenter.com/kiltguy/
http://www.geektimes.com/michael/culture/clothing/kilts/
Where Kilted Men Meet
---
I got married to wonderful woman back on April 12th 2K3. It was a typical wedding with pirates, fire performers, a Dominatrix and a Klingon among others. What, you didn't have a Klingon at your wedding? Too bad for you.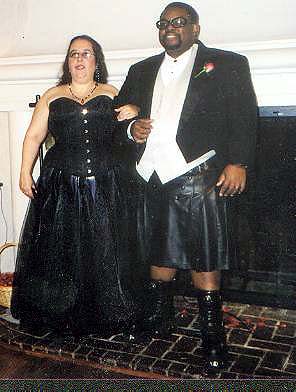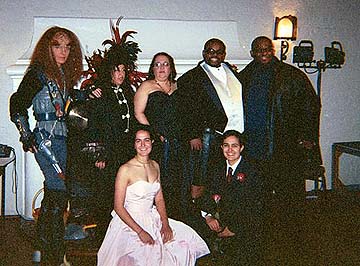 My Uncle Phil's wife Cat (in Klingon gear); my wife Sherri's sister Stacy (who officiated the wedding); Sherri,me; my brother, Ben; Sherri's daughter, Hannah and Sherri's other daughter, Dylan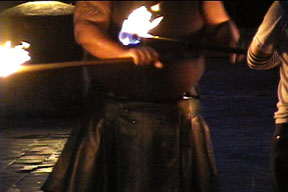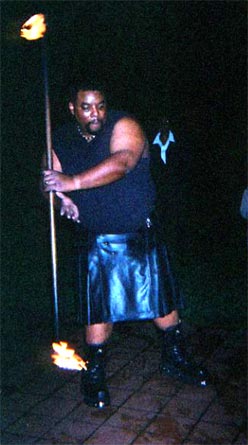 Dylan and I closed out the ceremonies with a fire spinning routine.
---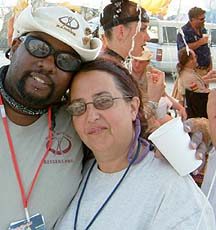 Sherri and I also do the Burning Man thing. We're both Rangers. I'm a Shift Lead and she's in Eschelon.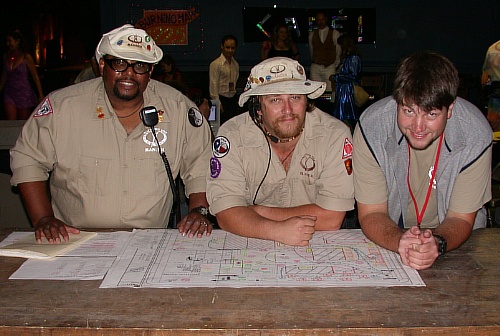 Rangers Rigged and Crow planning security for the "Beyond Belief" Flambe' Lounge at the Crucible in Oakland, CA. Is that Ranger Knothead? Where's his hat?
---
I also have a 13-year-old son named Nicholas who lives with his mother. I see him when I can (he's too independent these days to want to hang out with a boring old fart like me)
I enjoy photography and my musical tastes range from Debussy to Marilyn Manson. I was editor-in-chief of the school newspaper at San Jose City College last year. I studied for and received a Certificate of Completion in Multimedia Digital Arts. You can see some of my work on the Portfolio page. Currently, I'm taking EMT training to increase my knowledge as a First Aid instructor and Event First Aid practitioner.
Like I said, I'm a pretty ordinary guy.
Here's what I'm doing when I'm not kilted: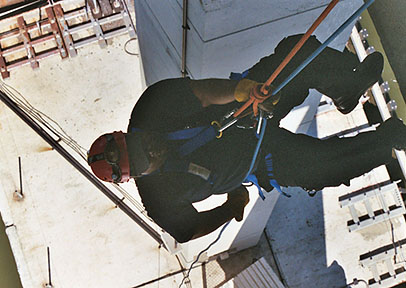 Rigged rappelling from the Dumbarton Bridge during Urban Search and Rescue training - 2005
I have a very cooul brother though. Ben Ramsey is a filmmaker. He wrote "The Big Hit" and produced "Love And A Bullet" from his Hollywood production company, Ramcity Productions. He also produced an animated film, "The Contract" which is the backstory to "Love And A Bullet."
---
Other interesting people I've met
---
Ken Keasey - Still going "Further".
Dr. C. Everett Koop - (Still fulfilling his childhood dream.)
Leonard Nimoy - (Nice man. Cool photos.)
Fred Rogers (Mr. Rogers - One of the nicest people I've ever met. His passing still makes me sad.)
Charles Townes (Co-inventor of the laser - Nobel Prize Winner)
R.U. Sirius (Publisher - Mondo 2000)
Steve Howe (Guitarist - Yes)
Chris Squire (Bassist - Yes)
Nikki Squire (Chris' wife - A quote: "Nobody's ever 'met' Jon Anderson.")
Alan White (Drummer - Yes)
Tony Kaye (Keyboards - Yes)
Allan Lundell (Futurist/Technovisionary) His brother, Norman was my first computer teacher -- all hail the Sons Of Bittleman!
William Gibson (Didn't he, like, INVENT Cyberpunk?)
J. Krishnamurti (I'm speechless...)
Archbishop Quinn (San Francisco Archdiocese)
Maceo Parker (Saxman for James Brown and Parliament Funkadelic -- the link is there, keep trying)
John Draper (AKA Captain Crunch -- The original Hacker)
Timothy Leary (He never stopped smiling... Died just after Midnight, May 31, 1996)
Lisa A. Lewis (AKA Dr. Lisa -- Author - Gender Politics and MTV; The Adoring Audience: Fan Culture and Popular Media)
Ossie Davis - (A regal gentleman. I think I was 15 years old when we were introduced.)
Bev Smith - (Very ambitious and hardworking. Sucked up knowledge like a sponge.)
Bill Cardille - (AKA Chilly Billy - You know, the newsman in the original, "Night of the Living Dead".)
Chevy Chase - (1972 - At a film festival in Pittsburgh. He was promoting "The Groove Tube".)
Congressman Chaka Fattah - (I did the photo for his first campaign poster. *G*)
Muhammed Ali - (1971 - I cut school with a friend and his limo stopped by us as we sat on a corner sipping sodas. He greeted us with, "I'm lookin' for Frazier! Y'all seen Frazier?!" Then, shaking his fist at us, "Ya wanna fight?!")